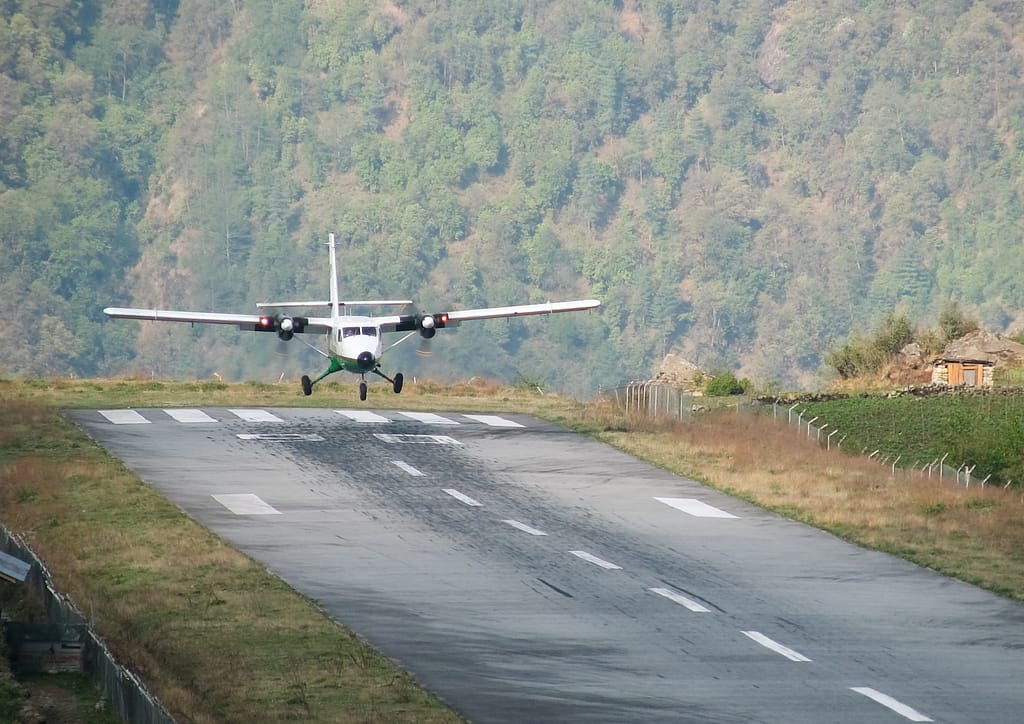 The Tenzing-Hillary Airport, also known as Lukla Airport, is a very tiny airport that is situated near the Nepalese settlement of Lukla in the SoluKhumbu region. The airport's runway, which is only around 1,500 feet length and located on a steep slope, is renowned for its challenging terrain.
For those who desire to travel to the Mt. Everest region, the airport serves as the main entry point. There are a lot of challenges and risk associated with landing and taking off from Lukla Airport. Despite that, it serves as a vital transportation hub for the region. Thousands of travelers pass through it each year.
We'll look at 10 facts about Lukla Airport in this blog post that will stun you. From the variety to its high altitude and erratic weather to the variety of hotels and services available. Here you'll find out why this airport has become such a popular destination.
1. The airport is situated at an altitude of 2,860 meters
Lukla Airport in Nepal is known for its extreme altitude. Located at an incredible 2,860 meters or 9,383 feet above sea level, it is one of the highest airports in the world. Its high altitude means that passengers experience a much thinner air than normal and can often suffer from altitude sickness. Moreover, the approach and landing are much more challenging and dangerous than those at other airports.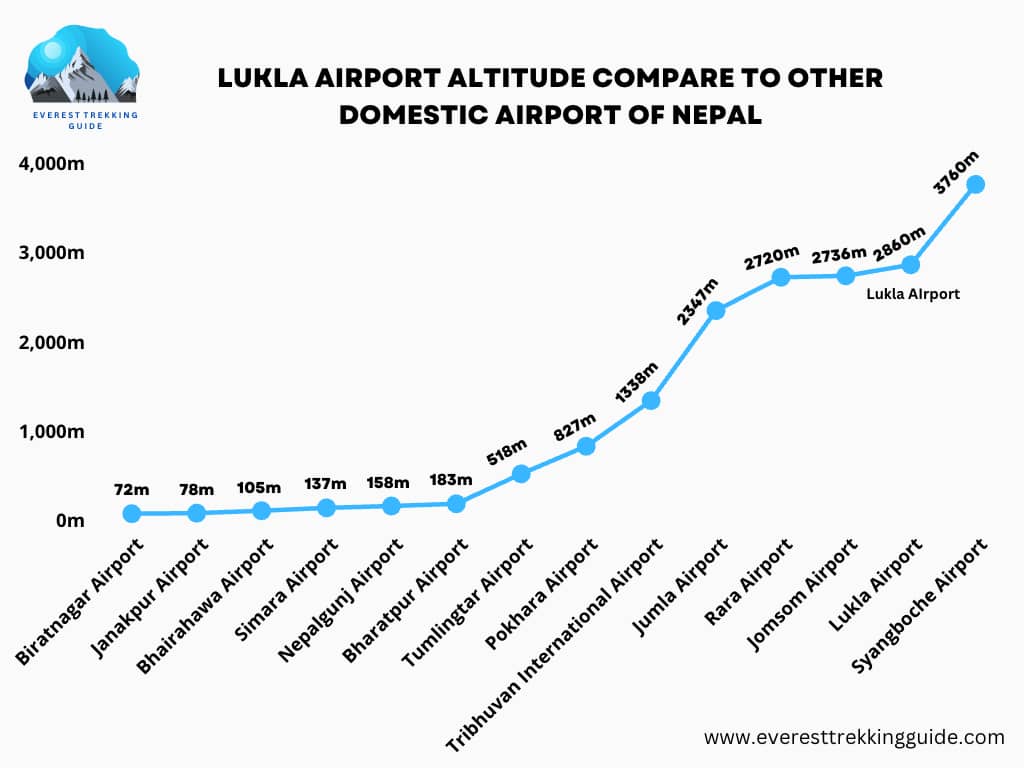 The thin air also affects aircraft performance so pilots have to take extra care when coming in to land. The airport's altitude also has an effect on the weather, with fog and strong winds often making it difficult to land or take off. For this reason, Lukla Airport is only open from 6am to 6pm each day, to ensure conditions remain safe for all flights.
Note: Syangboche Airport is situated in the Namche Bazaar, which is closer to Mount Everest than Lukla Airport. However, Syangboche Airport is not used for commercial purposes, which is why Lukla Airport is considered the starting point for those embarking on an Everest
2. It is surrounded by mountains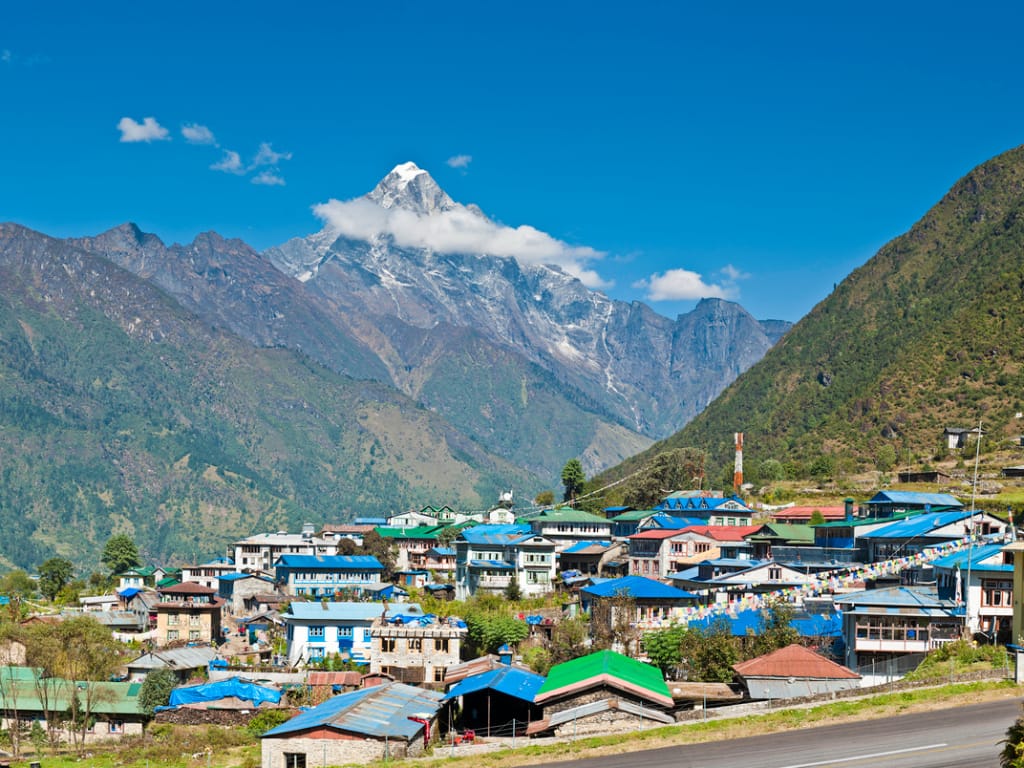 Located at a height of 2,860 meters, Lukla Airport is flanked by the breathtaking Himalayan mountains. One of Nepal's most spectacular views can be observed from the airport as the nearby peaks can soar as high as 6,000 meters above sea level. Although the rough terrain makes for a risky approach to the airport, it also offers some breathtaking views.
There are two massive mountains, Mt. Thamserku and Mt. Kusum Kanguru along both sides of the runway.These mountains are a treat to the eyes and they are very close to the airport. Depending on the weather, the sky above is frequently covered with white clouds or a vibrant blue sky.
No matter what time of day you arrive, you will be greeted with awe-inspiring views of the majestic mountains. The view is unlike anything you've ever seen, and the air is fresh and clean.
One of Nepal's most picturesque locations is Lukla Airport, which is a must-visit for any traveler.
3. The runway is only 500 meters long
Lukla Airport in Nepal is renowned for its short and challenging runway. The airport, located at an altitude of 2,860 meters, is the gateway to Mount Everest and the surrounding Himalayan region.
The runway of Lukla Airport is just 500 meters long, making it one of the shortest commercial runways in the world. This runway has an unusual approach with a very steep ascent due to the surrounding mountains and terrain. Pilots must navigate the dangerous terrain and make a sharp turn to land safely at the airport.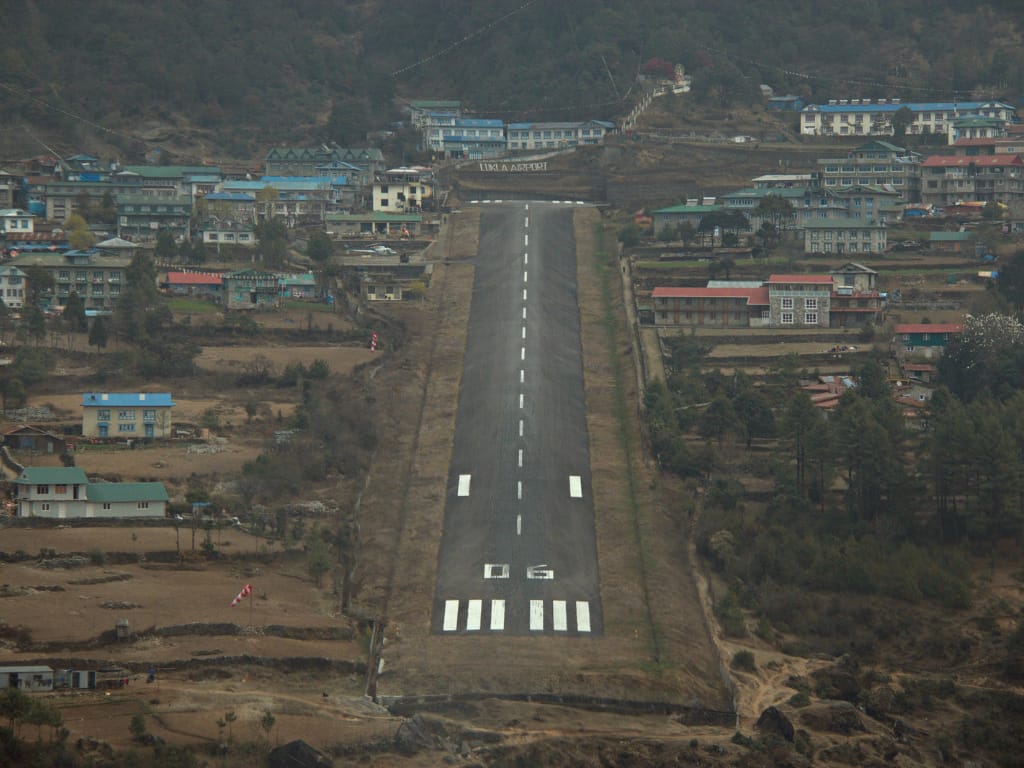 The risk of crashing increases significantly in bad weather. Pilots must maintain extreme concentration and control during landing, as any mistake can result in a fatal crash. In fact, there have been several fatal crashes in the past due to errors in judgment or technical failure.
Given the short length of the runway, large aircraft cannot land here and only helicopters or small propeller planes are allowed. The airport is open from 6am to 6pm, but all flights are subject to weather conditions and visibility.
The challenging nature of the runway and its hazardous location makes Lukla Airport one of the most unique airports in the world. The brave pilots who land here must demonstrate a high level of skill, precision and courage.
4. There is only one way in and out of the airport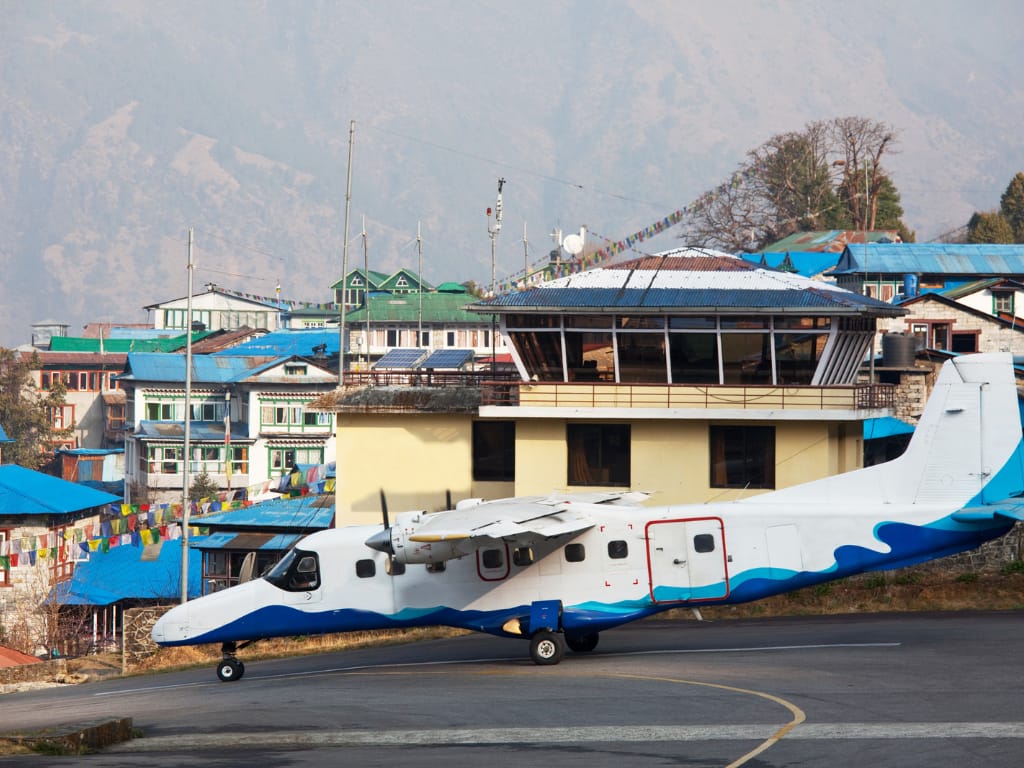 Only one runway that is 500 meters long, is available for planes to land in the Lukla village. This is why Nepal's Lukla Airport is regarded as one of the world's deadliest airports. It is challenging for pilots to land because the runway is extremely small and finishes at the rim of a mountain.
Due to the airport's close proximity to tall mountains, a skillful pilot and precise navigation are required for landing and take-off. Pilots must be able to land in any situation because there are no other routes to take in the event of severe weather or other circumstances. Even seasoned pilots find Lukla Airport to be a difficult destination because of this reason.
5. The airport is known for its dangerous approach
The risky approach at Nepal's Lukla Airport has earned it the title of most dangerous airport in the world. This is caused by the 500-meter-long runway's small length fused with closely located towering mountains. Due to the airport's elevation of 2,860 meters, aircrafts must approach at a steep angle that might be challenging to control. Pilots must rely on their own knowledge and expertise to land safely because the runway lacks any help for landing or taking off.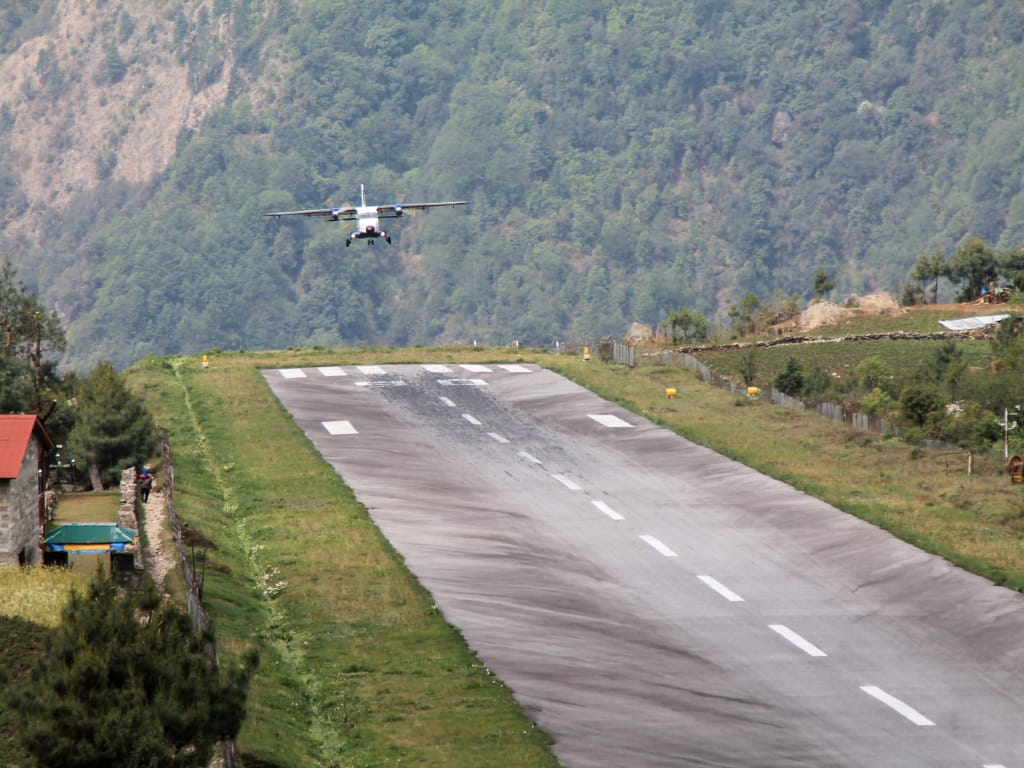 There are no services for night flights, and the climate can be uncertain. Although flights are typically canceled or delayed due to adverse weather, the airport is open from 6 am to 6 pm.
For pilots, landing even during the day is made considerably more challenging by the absence of lighting and navigational assistance. As a result, the approach to Lukla Airport is among the world's most dangerous, and it is not for the faint of heart. Despite this, it continues to be a well-liked entryway to Mount Everest and is frequently visited by numerous adventurers each year.
6. There have been several accidents at the airport
As the Lukla Airport in Nepal is renowned for its dangerous approach and short runway, over time this has resulted in a number of catastrophic accidents.In 2010, a plane crash during takeoff claimed the lives of 18 individuals.
Another plane accident in 2013 claimed 15 lives.Three passengers and two crew members died in a helicopter crash in 2017 as it was landing at the airport. These tragic incidents emphasize the value of following safety protocols and exercising caution when landing at this high altitude facility.
| | | | | | | | |
| --- | --- | --- | --- | --- | --- | --- | --- |
| S.N | Date | Airlines | Airplane | Reason | Death | Injury | Survivor |
| 1 | 15 October 1973 | Royal Nepal Airline | DHC-6 Twin Otter 300 | Landing | 0 | 0 | 3 |
| 2 | 9 June 1991 | Nepal Airline | DHC-6 Twin Otter 300 | Bad Weather | 0 | 17 | 17 |
| 3 | 26 September 1992 | Royal Air Nepal | Harbin Yunshuji Y-12-II | Takeoff faltered | 0 | 0 | 14 |
| 4 | 25 May 2004 | Yeti Airlines | DHC-6 Twin Otter 300 | crashed into Lamjura Hill because of heavy clouds | 3 | 0 | 0 |
| 5 | 1 October 2004 | Sita Air | Dornier 228 | collapse of its nose gear | 0 | 0 | 3 |
| 6 | 30 June 2005 | Gorkha Airlines | Dornier 228 | skidded off the runway while landing | 0 | 12 | 12 |
| 7 | 8 October 2008 | Yeti Airlines | DHC-6 Twin Otter 300 | inclement weather | 18 | 1 | 1 |
| 8 | 12 October 2010 | Sita Air | Dornier 228 | braking control lost | 0 | 0 | 19 |
| 9 | 26 September 2013 | Air Dynasty | Helicopter | rear rotor touched the barbed wire of the compound wall | 15 | 0 | 4 |
| 10 | 27 May 2017 | Summit Air | Let L-410 Turbolet | poor visibility | 2 | 1 | 0 |
| 11 | 14 April 2019 | Summit Air | Let L-410 Turbolet | struct with Eurocopter AS350B3e helicopter | 3 | 4 | 4 |
Some Accidents on Lukla Airport
7. The airport is only open from 6am to 6pm
Lukla Airport is a unique airport in Nepal, located at an altitude of 2,860 meters and surrounded by mountains. The airport is well known for its dangerous approach due to the 500 meter long runway and the fact that there is only one way in and out of the airport. Despite its danger, the airport is incredibly important, acting as the gateway to Everest and other popular destinations in Nepal. However, the airport's hours of operation are quite limited.
The airport is open only from 6am to 6pm each day. This means that the airport cannot be used at night and flights must arrive and depart during these hours. This can be difficult when planning travel, particularly when you consider that the weather in Lukla can be unpredictable. For example, poor visibility or strong winds can cause delays or cancellations and make it difficult to leave or enter the airport during the specified hours.
Despite the limitations of its operating hours, Lukla Airport remains one of the most popular airports in Nepal due to its unique location and the incredible views it provides. With strict safety measures in place and reliable transportation options available, the airport has become a crucial access point for those looking to explore the region.
8. There are no hotels at the airport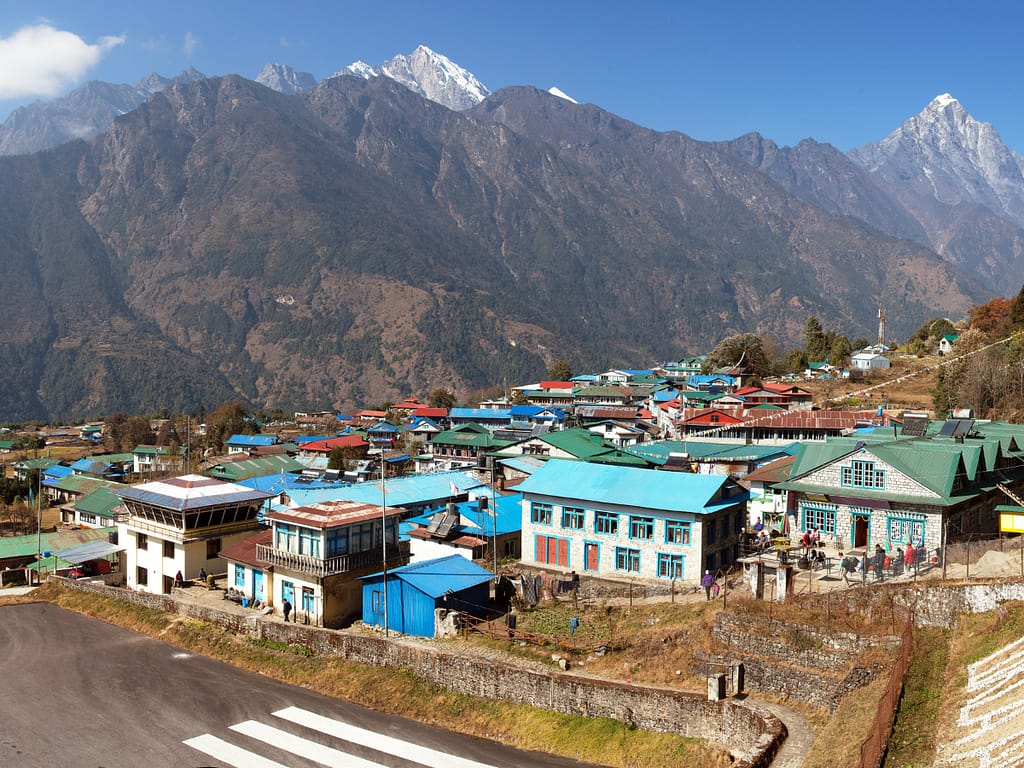 Most individuals are not aware that the airport doesn't have any hotels.
However, there are a number of hotels and teahouses close by that can accommodate your demands.
As a result, those planning to spend the night must make plans in advance, such as making hotel reservations in a nearby town or region.
You should make travel arrangements in advance if you are passing via Lukla because the airport is open from 6 am to 6 pm. Make sure to give yourself plenty of time to get to the airport and factor in any potential delays brought on by adverse weather.
In case you have no time for hotel reservation, make sure to arrive as early as possible.
Additionally, it is critical to be cautious of any potential threats when flying into the airport. This is due to the high altitude and small runway.
Also read: Toilet and Showers in Everest Base Camp Trek
9. The weather can be unpredictable
The weather at Nepal's Lukla Airport is infamous for being utterly unpredictable. The temperature can rise as high as 35°C in the summer and fall as low as -20°C in the winter. Flights may need to be canceled or delayed because of the extremely strong wind and/or dense fog.
Gusty winds and turmoil can occur when the wind direction changes quickly at these high elevations. Mist and clouds reduce vision, which makes it challenging to land or take off.
As a result, the airport becomes even riskier and unreliable.
Additionally, the airport has been shut down by severe weather, landslides, and snowfall. These environmental conditions have contributed to a number of tragic crashes in recent years. Because of this, it's crucial to check the weather before taking off on a trip from Lukla Airport.
Booking a flight in the spring or summer, when the weather is more reliable, is strongly advised.
10. The airport is the gateway to Everest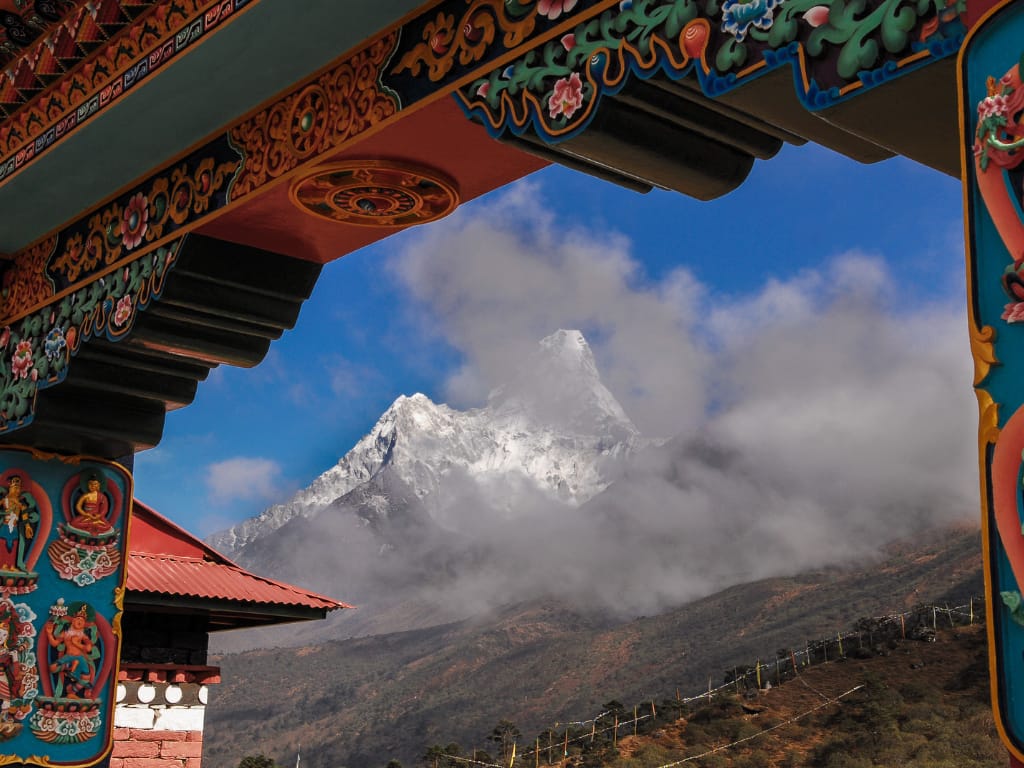 The entrance to the highest mountain in the world is through Nepal's Lukla Airport. Many of the expeditions to Mount Everest begin at this little airport, which is 2,860 meters above sea level.
Even if you don't intend to go on a trek, it is a beautiful destination because it is surrounded by snow-capped mountains.
After arriving at Lukla Airport, one can trek to Gokyo Valley or Everest Base Camp.
Whether you're an experienced climber or just a casual passenger, Lukla Airport will leave you speechless. There are several reasons as to why it is referred to as one of the riskiest airports. From the breathtaking vistas of the surrounding mountains, all trekkers to EBC start their journey from Lukla. The rush of navigating the tight runway is also a memorable experience.
You may also like:
Conclusion
Lukla Airport in Nepal is one of the most dangerous and extreme airports in the world. Its small 500 meter runway, altitude of 2,860 meters, unpredictable weather and lack of hotel accommodation make it a challenging experience. However, those brave enough to take the journey find it rewarding. Despite the dangers, Lukla Airport remains the gateway to Mt. Everest and an integral part of the region's culture.