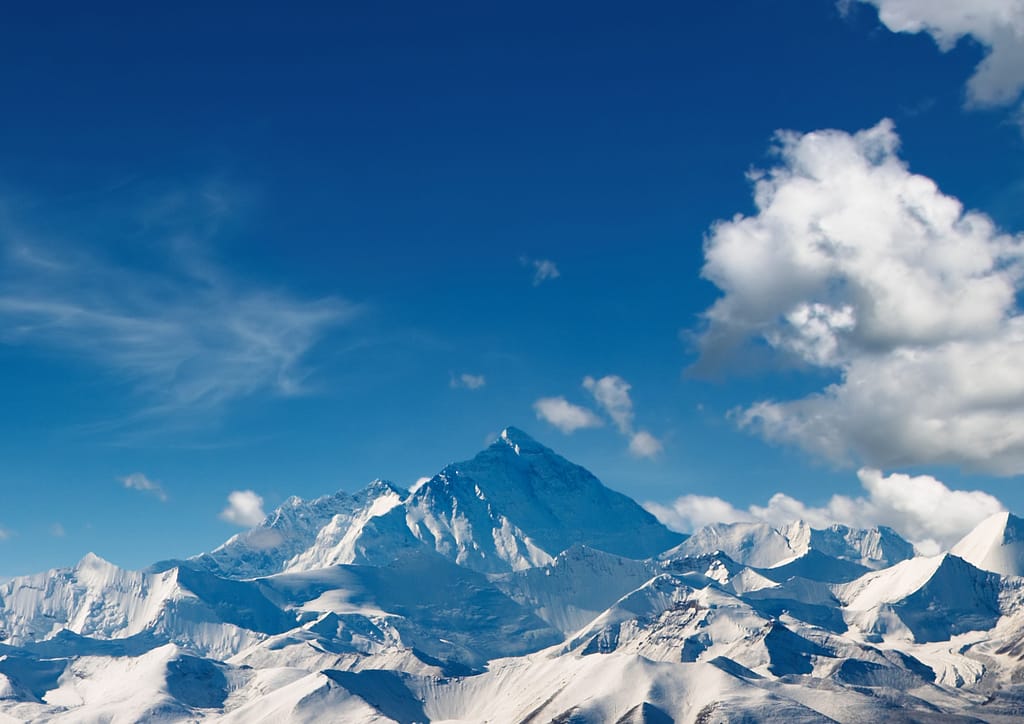 So you are a trekker but have yet to travel to Nepal and its trekking destination. What is the taste of that? Nepal is one of the most-do trekking destinations in the world. You might have heard of the beauty and adventure this country offers, and you want to visit Nepal so bad. The only thing is left to pack luggage and get a trip on Everest three pass or base camp trek.
Nepal is the home of the world's tallest mountain, Mount Everest. Everest sits in the highland of this country which circulates the Everest Base Camp and Sagarmatha National Park. If you are looking for a long trek, then you can extend your hike to the Three Passes in Everest.
What's the difference between Everest three pass and Base camp trek?
Many of you might get confused about the destination since both trekking routes start from Lukla and have familiar names under Everest. But the distance and the places you go around during the trip make the destinations different.
No matter what, you will experience the thrilling beauties of Nepal, known for its mountain ranges and extreme climate. The majestic view of Everest, Lhotse, Nuptse, Cho Oyu, and other famous peaks are the best attractions of the Three Passes and Everest base camp trek. Similarly, the high-altitude temperature, steep landscapes, and heart-blowing scenes of white rhododendron forest will keep you alive throughout your hike.
The local villages with Sherpali culture, monasteries, and warm and hospitable vibes that you will receive here will be the reason to come back to Nepal for another trek for sure. The Everest region, including Three Passes and the Base Camp, is a bit tougher than you might have expected.
However, visiting these places won't go in vain since you are about to grab a once-in-a-lifetime experience with all the adventures, risks, and natural beauties. So if you are an avid trekker and risk-taker, Three Passes and Base Camp are your cup of tea. But let's explore the difference between these destinations since they are different from one another. Let's dig out!!!
Overview of Everest Three Pass Trek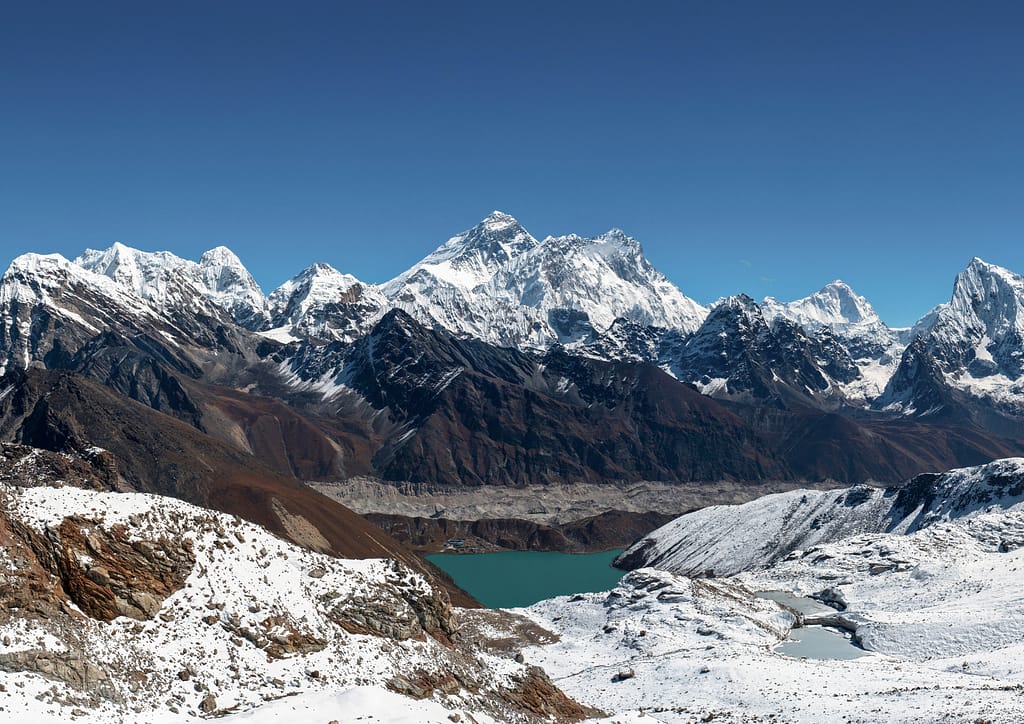 Everest Three Pass Trek is one of the most challenging treks in Nepal. Also, it is longer than any other hike in the Everest region. Visitors have rated this trip 'Challenging' since it's a platform for a high-risks and adventure than Everest Base Camp.
First, let's start with the Three Pass trail – a route situated in a high-altitude Everest region and passes across the three highest valleys in Nepal. The track sits at an altitude of above 5000 meters from sea level, which is a challenging walk to go. During the hike, you will pass through the EBC intersection, and you are always in the eyes of four high peaks, including Mount Everest.
Everest Three Passes consist of Renjo La Pass (5420 meters), Cho-La Pass (5420 meters), and Kongma-La Pass (5535 meters). If you are a passive hiker, you will have to think twice before taking this route since your daily activities will be walking over the moving glaciers, steep landscapes, and low temperatures. And the region is very vulnerable to avalanches during the stormy and other seasons; that's why you will have to map your plan before taking this hike.
Renjo La Pass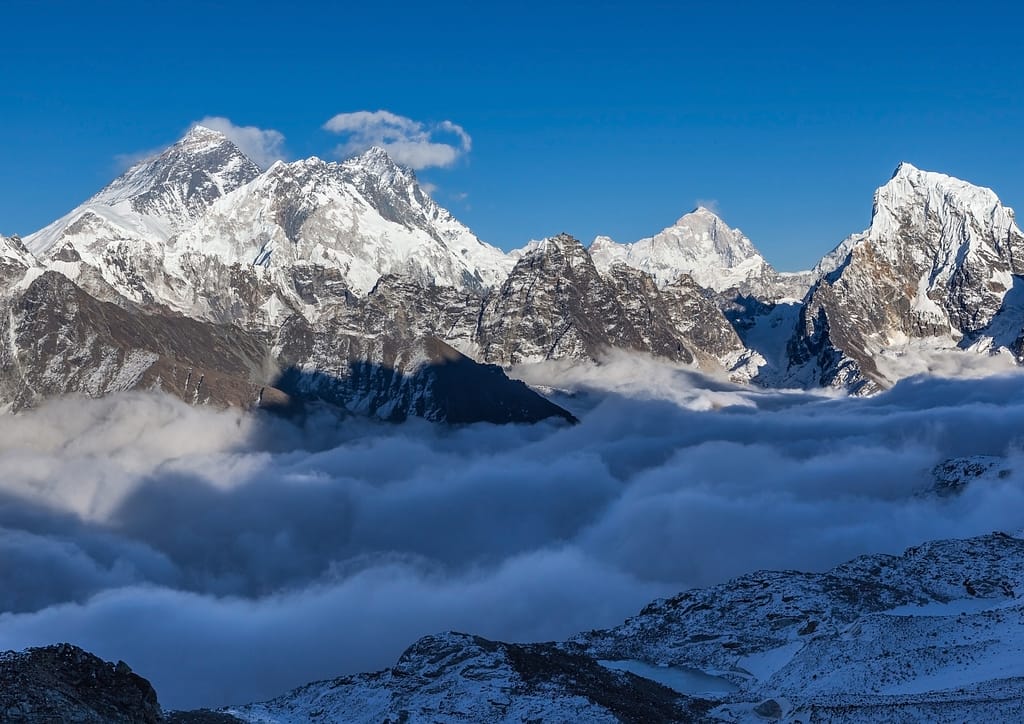 Trekkers will pass through Renjo La Pass, which is at 5,420 meters – a foot from the tallest mountain, Everest. It is one of the naturally abundant regions of the Khumbu region, with snowflakes and glaciers around it. It is a way to reach Gokyo Lakes, and on the way, you are always inside the observation of Himalayan forests of juniper, rhododendron, fir, and pine. You are likely to get a pristine view of mountains like Everest (8848m), Makalu (8481m), Cho Oyu (8201m), Ama Dablam, and Lhotse (8516m) during the clear sky.
Cho-La Pass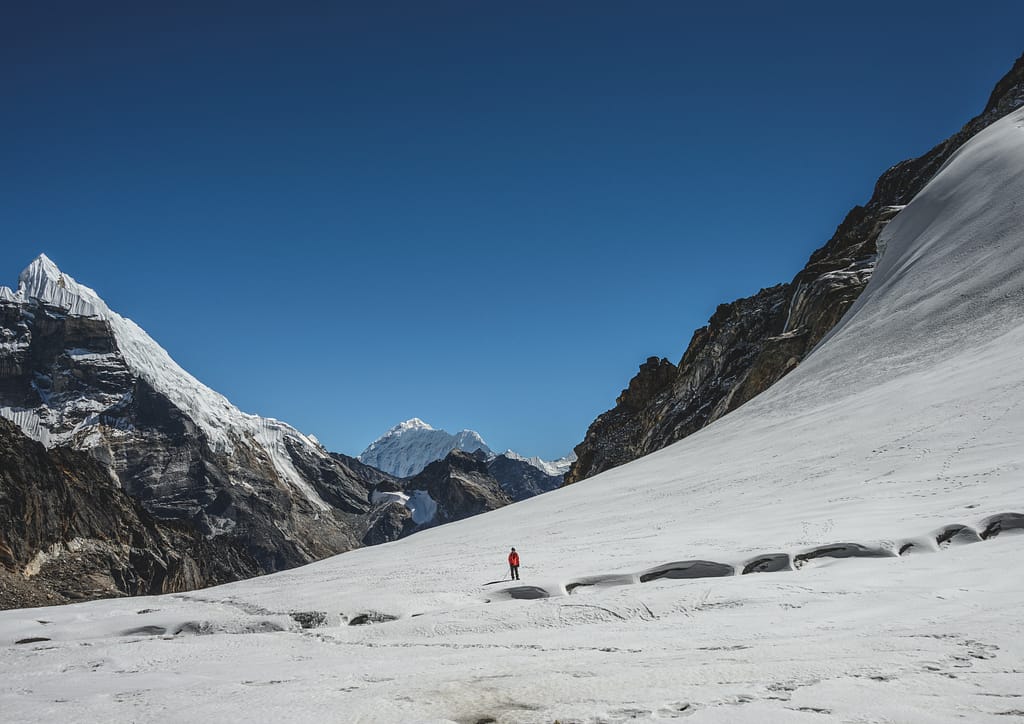 Cho La Pass is one of the passes situated in Sagarmatha National Park in the Khumbu Region. This pass connects Gokyo Lake with the Everest Base Camp route.
The trek to Cho La Pass starts from Dzongla and ends in Gokyo. The total distance of this trail is 7.5 miles or 12 km. The fun part of walking through the Cho La Pass is taking steps in the moving glaciers during some portion of your hike.
Kongma-La Pass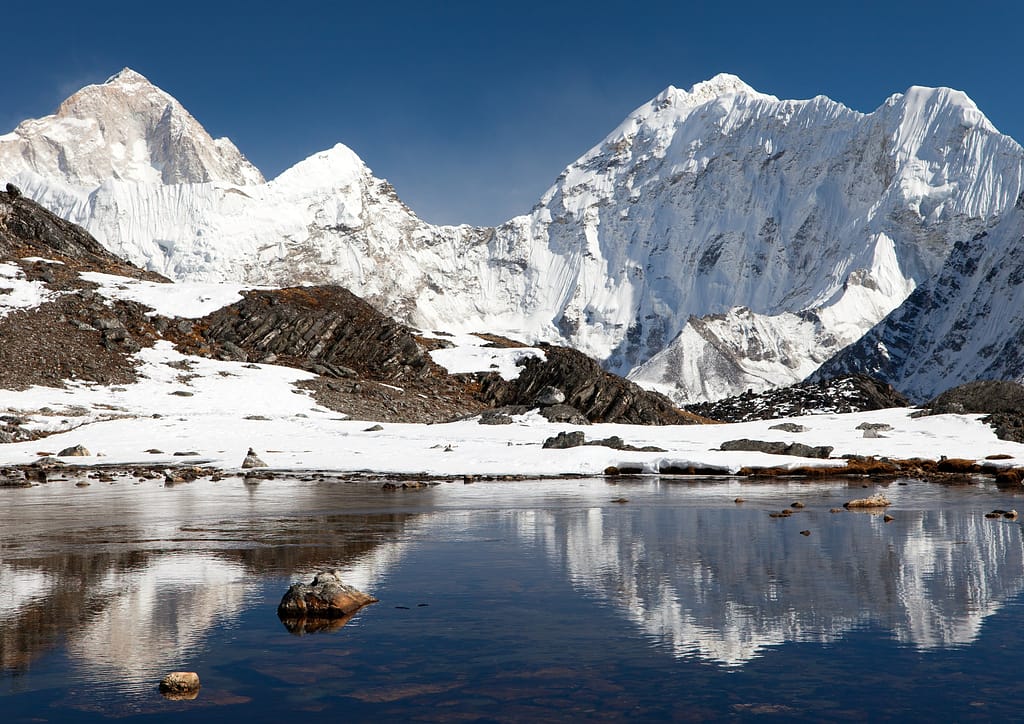 The trip to Kongma-La Pass starts from Chukhung, 4,730 meters above sea level. The endpoint of this pass is at Lobuche at 4910 meters.
Traveling the route through this pass takes around 7 to 9 hours, and the total distance of Kongma-La Pass is 6 miles or 9.6 km.
Overview of Everest Base Camp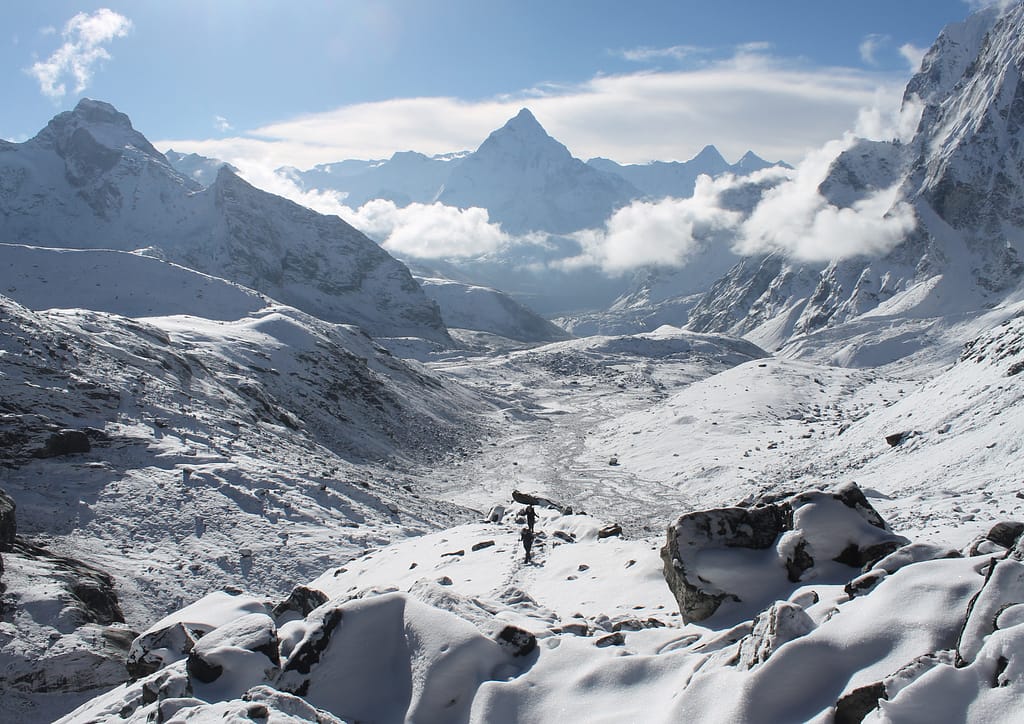 Everest Base Camp is at an altitude of 5,510 meters above sea level.
Unlike the Everest Three Pass trek, Base Camp Trek is much more accessible and easy to conquer. Since it is a single trek that trails to the base of Mount Everest, you will not be exploring the highlands above Base Camp.
The destination of the Base Camp is limited. Hence the trekking motive will be reaching the highest spot, Kala Patthar, and returning. So, you cannot extend your package if you have only booked for the Base Camp hike. Unlike Three Pass trek, Base Camp trek is less adventurous. Our hiking time is limited, and the natural richness you see around will be less. There's no way you are walking through the glaciers, but you are safe from the dangers of avalanches.
Distance, Duration & Difficulty Levels
The Everest Three Pass trek is much longer than the Base Camp trek. The total distance of Three Passes is 165 Kilometers, and it takes around 18 days to complete this hike.
All passes are above 5000 meters, and the trail features rugged, sloppy, slippery glaciers and a narrow pathway. So the difficulty level is higher than at Everest Base Camp. The air is thin at high altitudes, and you will likely get altitude sickness and other illnesses. Throughout your trek, you will travel across several eye-pleasing sites like Lukla, Renjo La Pass, Cho La Pass, Kongma-La Pass, and Gokyo. The best time to visit this region is from February to May and September to November.
When it comes to Everest Base Camp, the distance you cover in your trek is less than the Three Pass trek. The total distance you need to walk during the hike is 130 km, and it takes 12 to 14 days at minimum to complete this trek.
You will start your trek from Lukla and end your tour in Kala Patthar, 5510 meters. The sightseeing of natural richness is limited compared to the Three Pass trek. Still, you will be satisfied with the majestic views of Mt. Everest and its range with the grooming environment of local Sherpa culture. As for the difficulty level, Everest Base Camp is a challenging hike to take but not as arduous as a three-pass trek. You will be off from walking through the glaciers and some life-threatening sloppy landscapes.
Cost Comparison for Both Treks
For any trek in the world, the cost differs based on the total number of days you will be on the hike and the activities you will be doing throughout it. The same goes for the Everest Three Pass Trek and Base Camp Trek. Until and unless you are involved in more activities than planned and have additional days to stay, your designated budget will likely cover all the costs.
Let's start with the Everest Three Pass trek: the average cost for traveling through three passes is around $1500 per person. It covers all the necessities throughout your hike, from food and camping or lodging. If you travel in a group, you can get the best deals; for example, it costs USD 1186 for five people and only USD 1098 for ten people in a group.
Similarly, if you are traveling to the Everest Base Camp, you will need to allocate a budget of around $1000 per person. Your visa fees, permit and entry fees, and gear cost are excluded from the designated amount. If you are likely to extend your stay in the Base Camp, save a few extra hundred dollars to keep yourself alive.
Things to Consider Before Choosing Which Trek to Take
Several factors can make a difference in choosing the Everest Three Pass and Base Camp Trek. If you are a risk taker and an active trekker, you can go for Three pass trek. And if you are just an adventure lover afraid of the extreme landscapes and climate, then Everest Base Camp is the better idea for you.
There are a few things that you should keep in mind before trekking to Everest Region. Tough and rugged routes, extreme climate, cold temperature, the possibility of natural calamities, high altitude, and long distances are some things you should consider before taking these treks.
So if you are all up to take every risk and adventure, why sit behind and dream of being in the Three Pass trek of Everest Base Camp? Let's juggle up and make plans to travel to Nepal's wonderland, and we assure you that it won't be vague – you will get every fun and adventure you had hoped for in these past years.