If you've booked a trek to Everest Base Camp, Congratulations! You have chosen the right destination for refreshment and adventures, and you'll never forget it. But have you gone through your daily needed stuff while planning the trip? You might be okay with all the plans on a budget, physical goods, gears, and equipment – but you might be missing to consider Internet on the Everest Base Camp trek.
So what are the things that you should know before landing at Everest Base Camp to have fine Internet Access? Just know this, there are several things that you should work on to get the services.
Internet access is sometimes difficult to find while trekking in the Himalayas. But don't let that stop you from staying connected during your trip. While some hikers prefer to be alone and avoid technology and the Internet, others must keep in touch with loved ones while on their trek.
Though it's hard to get reliable internet access there. You won't miss cherishing it while hiking up arid mountain trails to Everest Base Camp. There are a number of ways for you to get you online at any point. Whether it's fast or slow, you can still get connected.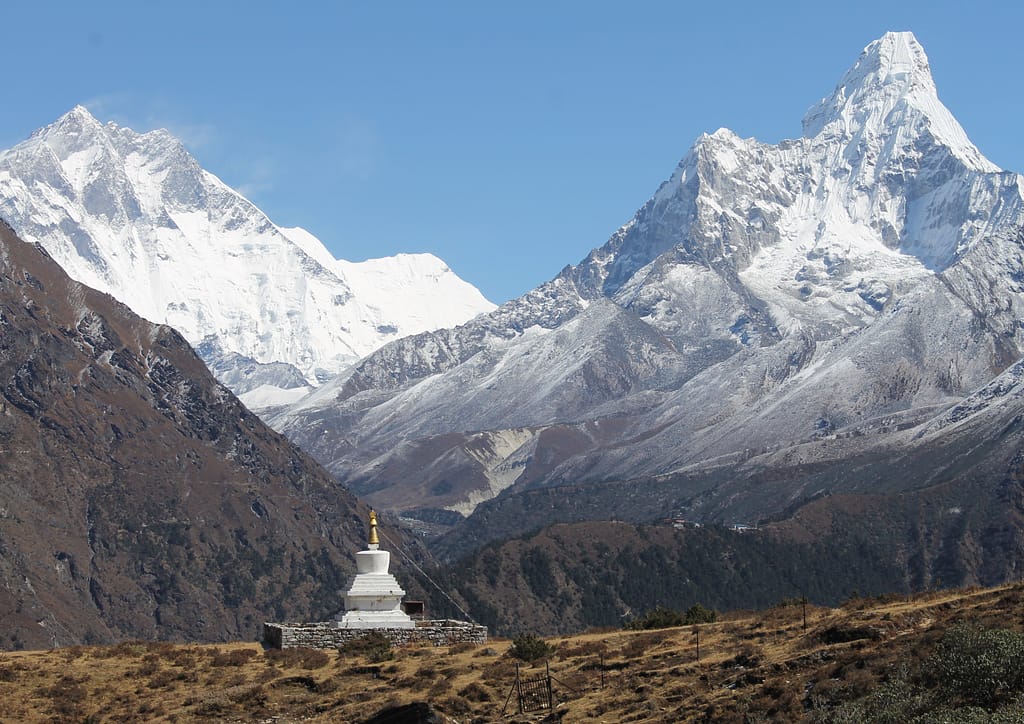 What Are the Options for Internet Access on an Everest Base Camp Trek?
Reliving a fast internet is a dream of many hikers in Everest Base Camp since many are actively engaged in video streaming and vlogging. But you might find some issues accessing it – but you will still have access.
You have a few different options for getting online while trekking to Everest Base Camp. Namche Bazaar, where you begin your trek, has fluid electricity and internet access, allowing you to be connected to several platforms 24/7. However, the quality of service can vary greatly, so be prepared for patchy connections, slow speeds, and sporadic service.
Suppose you don't want any interruptions in your connection and are desperate to stay connected. In that case, you can always rent a satellite phone or an Internet-connected device that will give you access to the Internet wherever you are in Nepal. Just be aware that these options can be expensive and come with data limits.
You can also choose Everest Link Card or Ncell Network for better connectivity. Everest Link Card is a wireless prepaid broadband service that appears to be popular with hikers. However, it also has significant limitations and poor service. 
The NTC and Ncell 2G – 3G – 5G Network is preferable for those who use the Internet briefly. In higher elevations, the 2G and 3G networks only operate continuously for a short time.
Having a 5G connection at a high altitude is different from what is expected since 3G, and 4G connections can be very slow.
What Type of Internet Access Is Available at Lodges/Tea Houses During the Trek?
Most importantly, WiFi is available at lodges and tea houses throughout the trek. You can expect to have at least some signal in most places, but the connection quality and data vary greatly. In general, you'll be able to access essential functions like sending emails and checking Facebook. You might have issues with streaming videos or something related. The WiFi is usually adequate for basic browsing.
Nowadays, many teahouses feature WiFi and charging stations, especially those close to Everest Base Camp. However, you will have to pay extra to charge your devices. Additionally, the internet connection could be better, so finish your online work before starting the trek. The Khumbu region's tea houses, especially those in Namche Bazaar, have relatively decent connections compared to other trekking areas. Although the speed is impressive, it can sometimes lag due to a high number of connections. So, expect little from electricity and WiFi.
Internet Access Through Data: How To Get a SIM Card in Nepal?
One of the best bets for getting online while on the Everest Base Camp trek is to buy a SIM card once arriving in Nepal. You can purchase one at the airport or in major towns and cities.
You'll need to present your passport and fill out some paperwork to get a SIM card. The process is relatively straightforward, and you should have your SIM card and access to the Internet within minutes. Confirm with your service provider that your phone is unlocked before purchasing.
Getting a SIM card in Nepal only costs around $1 or more (below $5). Make sure you are acknowledged with the data packages that come with the sim so you can plan accordingly.
Pros and Cons of Using Satellite Phones and Satellite Hotspots
Satellite Phones and Hotspots are great options for accessing the Internet while trekking to Everest Base Camp. The satellite phone is great because it allows you to make calls, send text messages, and even access the Internet — all from one device. It's also very portable and lightweight, making it comfortable to take with you on your trek.
However, there are some drawbacks to using satellite phones and hotspots. First, they can be expensive to rent or buy — so if you're on a budget, this may not be the best choice. Second, they require a clear view of the sky to get a signal — so if you're trekking through rocky terrain or thick forests, that won't be possible.
Thirdly, they can be pretty slow compared to regular WiFi routers or cellular network connections — so it may take longer than expected for websites and emails to load.
All in all, it's essential to weigh the pros and cons before deciding if these options are suitable for you.
Setting Up a Phone Call and Other Forms of Communication
You can use your cell phone (provided you have international service) or rent a satellite phone at specific locations. WiFi can be found in various places along the trek, so keep your eyes peeled for restaurants and tea houses that offer it. If all else fails, set up a call using VoIP services on your laptop or phone; this is usually quite reliable and relatively inexpensive.
Internet-capable cafes and cyber centers are scattered across Nepal, so you should have no problem contacting the individuals back home if necessary. Always carry your passport when using these establishments to avoid issues with the local authorities.
Tips for Staying Connected While Trekking Everest Base Camp
It doesn't have to be all gloom and doom if you're trekking Everest Base Camp and need to stay connected with the outside world. Yes, finding WiFi or reliable internet access in this remote region is somehow difficult, but there are some ways you can stay connected.
Portable WiFi hot spots are the best best. Many tea houses along the trail offer WiFi, but it is usually more vital to send large files or make video calls. So be prepared with your plans for Internet Access. A portable WiFi hotspot can provide better speeds while trekking and connecting with your friends and family back home.
staying in touch with friends and family back home can quickly be done through social media. You can establish a data plan to communicate before leaving for the trek without incurring time delays or additional charges.
If you're planning on trekking to EBC, it's essential to know that finding Internet and WiFi access can be difficult. There are few ways to get online but it may probably cost money and the connection can be spotty.
Keep this in mind when scheduling your trip, and stay safe while trekking!