In the Himalayan region, Nepal is a landlocked country between Tibet, Autonomous Region of China, and India. Nepal is a unique religious destination for Hindus and Buddhists. It is also recognized as the birthplace (Lumbini) of Siddhartha Gautam. Many of the population speak Nepali as their everyday language, while the remainder speaks more than 120 Tibeto-Burman languages.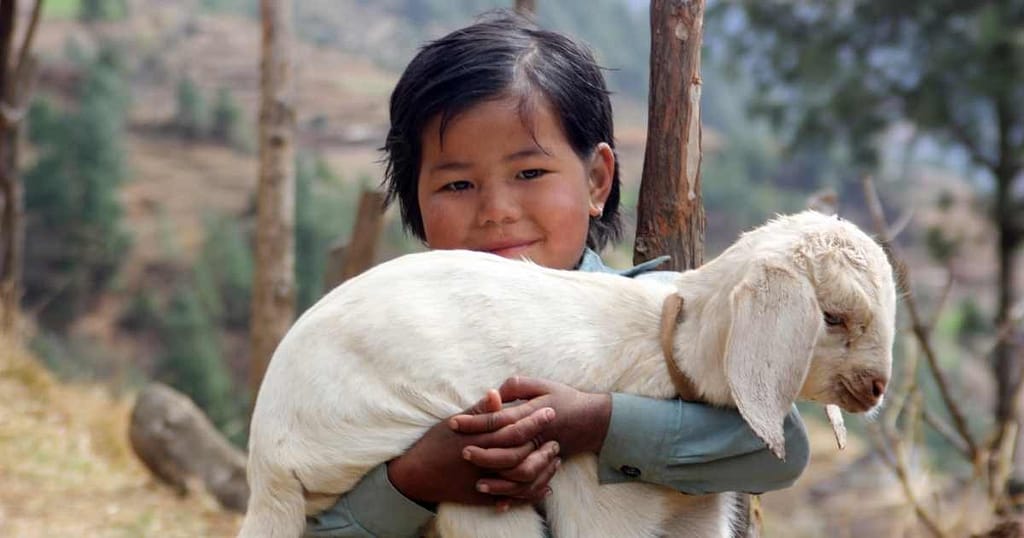 You may also like:
Hinduism, Buddhism, Islam, Christianity, Jainism, Sikhism, Bon, ancestor worship, and animism are the religions practiced in Nepal. The vast majority of Nepalese are Hindus and Buddhists. The Buddha is highly regarded by both Hindus and Buddhists. Hindus worship the Vedic gods of antiquity. You may find many temples in any part of Nepal. If you are religious, you may take a trip to the temples there.
Nepal has six distinct seasons: early summer, summer-monsoon, spring, early autumn, late autumn, and winter. And the weather shifts accordingly.
For Trekkers
Spring
Lasts from the middle of March to the middle of May. We recommend taking a trip to Nepal during this time as it is one of the ideal seasons. Trekking is particularly recommended as the weather is generally stable, although some areas may experience high winds and light rain. Additionally, trekking is a good idea during this season as the weather is relatively stable, however, some locations may encounter strong winds and steady rain.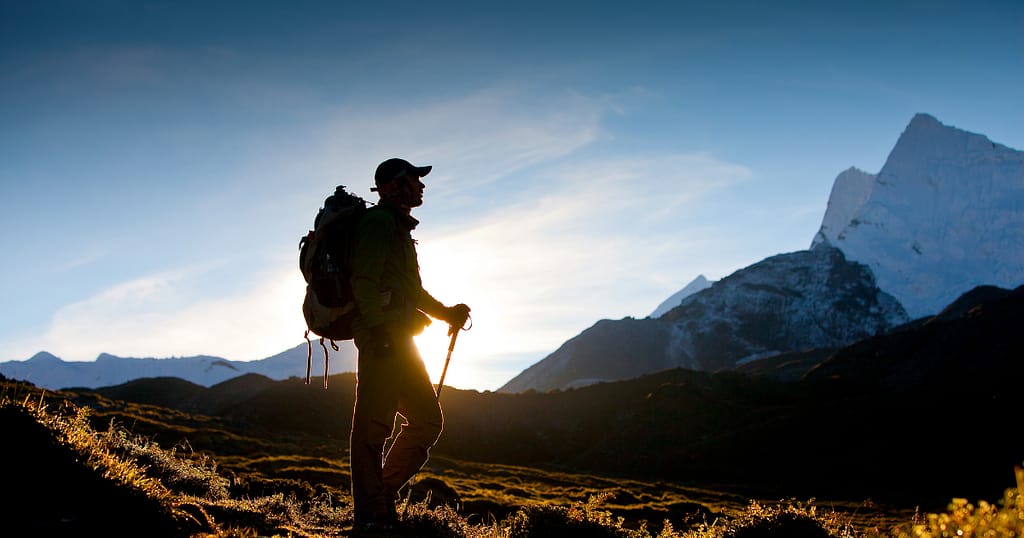 Early summer
It lasts middle of May to the middle of July. Temperatures are rising rapidly throughout Nepal this season. Northern destinations are noticeably cooler, with popular treks, which include High Mountains, Narrower Mustang, and Upper and Lower Dolpa.
The summer monsoon
Summer monsoon lasts middle of July to the middle of September. During this season, most of Nepal's regions experience little too heavy downpours daily. Trans Himalayan Region is not impacted by this season. Hence, trekking routes are quite famous in this region at this time.
Early Autumn
It lasts middle of September to the middle of November. Nepal is considered the best time for adventure activities from mid-September to mid-November. The skies are often clear, and moderate temperatures and the cold wind contribute to a relaxed atmosphere.
Late Autumn
Late Autumn lasts middle of November to the middle of January. This time of year sees a progressive reduction in the mean temperature across Nepal and is also regarded as an best time for trekking Everest Base Camp trek, Ghorepani Poonhill Trek, Manang Gosaikunda Trek, and other famous trekking routes throughout this season.
Winter lasts middle of January to the middle of March. The southern valleys of Nepal have an average temperature of 10-15 degree Celcius, whereas the mountain areas get a great deal of snow.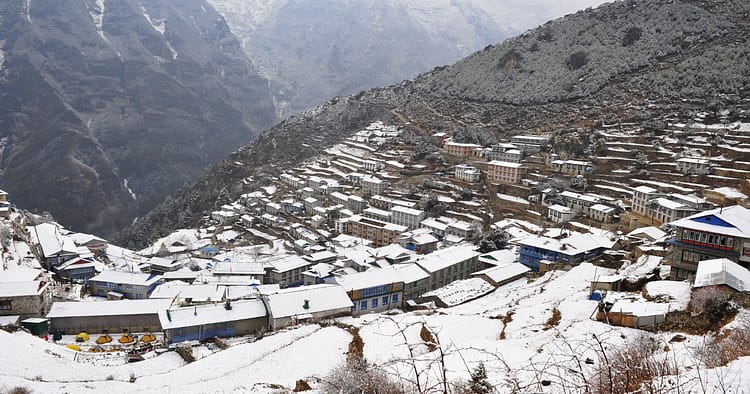 You can take a trip to Nepal at any time of year, based on the weather. Because Nepal has a variety of climates, the autumn and spring periods are considered the best times to trek in Nepal.
If you are more of a festive person, then:
There are many festivals in Nepal, But the main festivals of Nepal are Dashain, Tihar, and Holi.
Dashain or Vijaya Dashami
Dashain is also called Vijaya Dashami. It is the greatest and longest major festival celebrated by Nepalese of Hindu origin worldwide. It is celebrated between September and October.
All institutions are closed during this festival. It lasts 10 to 15 days. People who are away from home go to their respective families. Starting with the bright lunar night and ending with the full moon night. Even though every day is important, the first, seventh, eighth, ninth, tenth, and fifteenth days are the most generally observed.
Nepalese worship Goddess Durga during this festival. It is understood that Lord Ram won the battle only after the goddess Durga was awakened.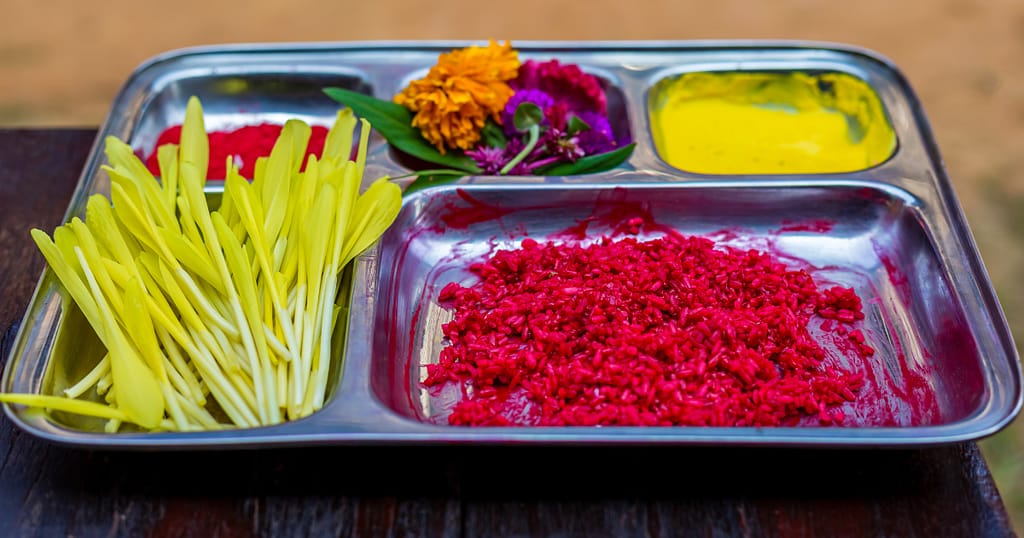 In this festival, Nepalese look for new clothes, luxury items, gifts, and foodstuffs for family gatherings. Hundreds of thousands of sheep, goats, chickens, ducks, and buffalos are being butchered. Everyone, from the poor to the wealthy, enjoys the holiday spirit.
Gatasthapana is celebrated on the 1st day of Dashain, Phulpati is celebrated on the 7th day of Dashain, MahaAstami is celebrated on the 8th day of Dashain, Maha Navami is celebrated on the 9th day of Dashain, Vijaya Dashami is celebrated on the 10th day of Dashain, and Kojagrat Purnima is celebrated on the 15th day of Dashain.
If you visit Nepal at this festival, you will see people enjoying swings constructed from bamboo and coconut ropes, flying kites,s, and tikas on each person's forehead.
Tihar
Tihar is also called Deepawali. It is usually celebrated between November and October. It last 5 days. This festival is also celebrated in some parts of India. It is also as known as the festival of lights.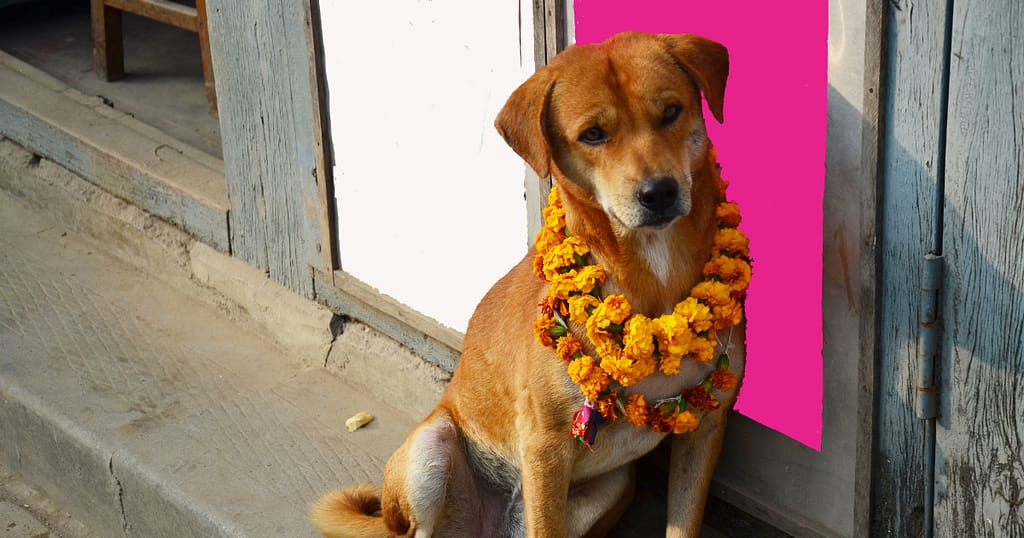 The respondent of Yama is idolized on the first day of Kaag Tihar, the day of the crow. The second day of Kukur Tihar is dedicated to worshiping dogs as Yama's agents. Gai Tihar and Laxmi Puja are held on the third day. On this day, prayers and food are offered to the cow in the morning, and intricate prayers and puja are given to Goddess Laxmi in the evening.
If you visit Nepal during this festival, you will get to see the fireworks, lights (small oil lamps) at the houses of people, and rangoli.
Fagu Purnima or Holi
Fagu Purnima is also called the festival of spring. It is celebrated between February and March. It is also popular in India. Holi celebrations can be viewed as a sign of joy and joy among both relatives and friends. The festival, which is celebrated with different colors, represents love, affection, and harmony and is held on the full moon day in the month of Falgun.
If you visit on this day, you will see people enjoying colors by putting colors on each other.
Transportation options for exploring Nepal:
There is only one air transportation that is Tribhuvan International Airport.
Numerous buses, minibusses, and microbuses travel to various destinations throughout the valley. Three-wheeled battery-powered vehicles are also accessible for Kathmandu travelers.
There also are taxi services. Private taxis may be slightly more expensive. Major hotels can also arrange and operate night taxi services. The fare is slightly higher than that of a metered taxi. A private car can be rented from a travel agent or a car rental company.
Nepal's most popular tourist destinations, including Pokhara, Chitwan, and Lumbini, have tourist buses. Some buses connect Kathmandu to cities in India. Local buses in Nepal are smaller and less comfortable than tourist buses. However, they are also less expensive, and by taking a local bus, you can reach some of Nepal's most remote locations.