A family outing to a nice destination is to go for every holiday season. It is the best time to bond with each other and spend quality time in a blissful environment.
Traveling with kids might be fun, but it is also one of the parents' biggest concerns. Exposing the little ones to the outside world out of their comfort zone is stressful for the parents visiting the unfamiliar destination. It might be challenging, but a little preparation can get through it.
Also read: 8 reason why you should trek to everest base camp
When traveling with kids, you must take into account that there are a lot of positives, but also some negatives. Some positives are children learning about the cultural difference and highlights that are far too different from the western world. While the negative might be the difficulty in adjusting to the new environment.
Nepal has a wide array of activities to offer to families with children that helps get fantastic experiences on many levels. Traveling to urban destinations like Kathmandu, Pokhara, Chitwan, and Lumbini is not a problem. There are many hotels in these areas that are welcoming as well as kid-friendly.
However, you might need to keep a watchful eye on your child. Specialized activities for each specific area, comparatively developed areas, and a lot of construction work, each of the above-mentioned places offers.
You might experience dust while getting around to different places. You might also want to take charge of hygiene regarding food and water. Let me give you the know-how of activities you can undertake with the kids while you are in the urban areas.
Sightseeing tours of the Kathmandu Valley:
While you are in Kathmandu, you might want to take at least a full day sightseeing tour of the valley's UNESCO world heritage sites. The normal sightseeing tours last for 3 to six hours in a day. One can cover 3-4 different destinations in a day, which can be pleasing to the kids as they normally tend to lose interest after a few times. Keeping in mind that you are traveling with the kids, destinations such as Swoyambhu, Boudha, Patan, and Bhaktapur might catch their interest as they are quite different and special in their own way.
This journey lets you know more about Nepalese culture and tradition. The youngsters will also discover the locals' many cultures, languages, topography, and way of life.
Jungle safari at Chitwan National Park:
Chitwan, as a destination, offers exquisite jungle activities. The 2 nights and 3 days package covers the things you can enjoy while there. The kids find it more fascinating as it involves various activities such as elephant back safari, visiting an elephant and gharial breeding center, bird watching, jungle/ nature walk, canoe trip, etc. Fascinating as it allows you to get involved in dancing with the gorgeous dancers dressed in their traditional attire and to learn about the lifestyle of the locals, the Tharu cultural dance and visit to the Tharu village.
If you are lucky enough, you might encounter various species of birds, one-horn rhinos, crocodiles, gharial, bears, and the royal Bengal tiger in its natural habitat. You can also take a bullock ride while roaming around in the area.
Sightseeing and adventure activities at Pokhara:
Pokhara is a paradise for tourists of all ages. A visit to the beautiful city of lakes escaping the hustle and bustle of the capital is relaxing and rejuvenating. The numerous hotels offer amazing hospitality, and the restaurants in the lakeside area offer varieties of cuisines, both local and international.
There are numerous options, such as visiting the cultural sights, hiking to the peace stupa, or even boating at Phewa Lake. Paragliding can also be an interesting option for adventure seekers. Enthusiastic kids above 10 years or above can attempt for tandem paragliding from Sarangkot over the lake. There are also other adventure options, such as ultra-light flights. Visiting the natural limestone caves can be a delightful experience for the kids.
Spiritual tour to Lumbini:
Lumbini is the birthplace of Siddhartha Gautam, "The Light of Asia." The visit to Lumbini can be inspirational for the children as they learn about Buddhism and enjoy the spiritual ambiance. The visit to the monastic zone with an enticing rickshaw ride can be very educating as the monasteries are built by different countries depicting their own unique architecture. One can even enjoy boating in the canal while you are visiting the Maya Devi temple, which is the exact place where Buddha was born.
Following are a few activities that you can do with your children while in Nepal.
Trekking to the Himalayas.
Trekking in the mountains with the kids can be challenging. The best way to experience this part of the world is by walking. Kids will get a chance to witness the unique cultures of the area as well as get along with the local animals and plants. A short trekking adventure to Ghorepani and Poonhill would be ideal for traveling with kids.
Also read: Fact about everest
The itineraries are prepared so that the kids don't get fatigue walking and have plenty of time to enjoy the surroundings. Besides, the routes are diverse as it passes through the jungle, rhododendron forest, metal bridges, small villages, etc. You can peek at various snowcapped mountains through the trees every now and then. For the moderate trek such as Everest Base Camp, even the kid who can walk might encounter a problem. Hence, keeping a few extra days for the trek would be ideal, or hiring a mule, or a horse can be another option.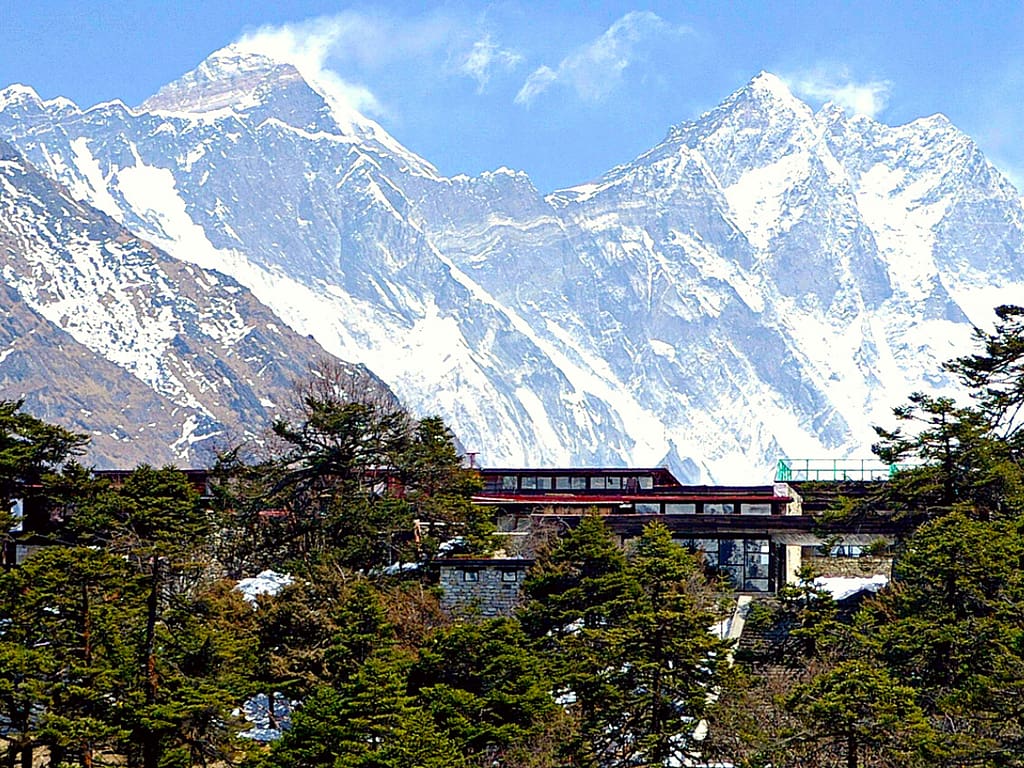 Strenuous treks are not recommended for the kids. If you are traveling with a group of children, then 1 assistant guide for every three children would be a good ratio as it would be easy to keep a hold on every child. You must keep your eyes and ears open while trekking as you would not want to come in the way of the herds of yaks and mules. Always stay aside and give them the way if you encounter any on the way.
River rafting and Canyoning
River rafting and canyoning at the Trisuli River can be one of the activities that you and your kids, might enjoy. The rafting can be completed within a few hours. It can be done any time of the year; however, during the monsoon, the river situation changes drastically, and sometimes it is impossible to raft. Before the trip, the guide will be briefed about the rules and safety measures. Safety personnel in his kayak will be alongside your raft while you enjoy the thrilling yet exciting water sports with the family.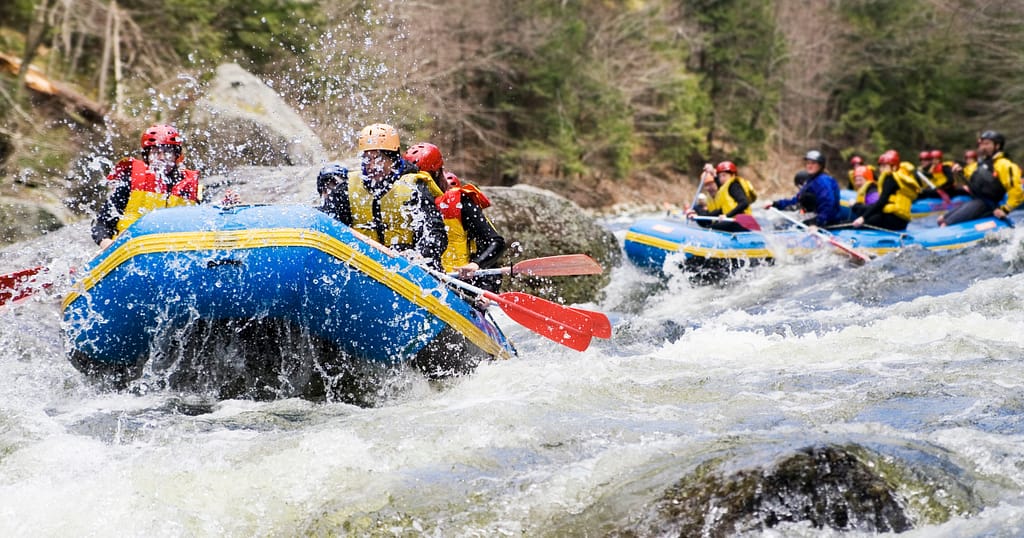 Similarly, canyoning can be a fun activity too. Coming down a natural spring with the harness and safety is fascinating. After completing the activity of your choice, you can either return to Kathmandu or stay at the Riverside resort for the night.
Conclusion
Nepal is a land of beauty, serenity, and adventure, which makes it the perfect place for a family vacation. You can do many activities with your children while in Nepal. You can visit the cultural sights, hike to the peace stupa, or even go boating at Phewa Lake.
We have highlighted some of the best activities you can do with your children while in Nepal. But there are many more options are available. Nepal will surely give you and your family an experience of a lifetime with its diverse landscapes and friendly people.
So, what are you waiting for? Pack your bags and head on over to Nepal!