The Everest Base Camp transitions from the fall to the winter season in the last month of the year. As we move from autumn—one of the busiest trekking seasons– to winter. Yes, that is the response.
Even though the Everest region experiences relatively little precipitation, the temperature at Everest Base Camp drops below zero in December throughout the trekking path. This promises stunning photographs and a clear perspective of the mountains.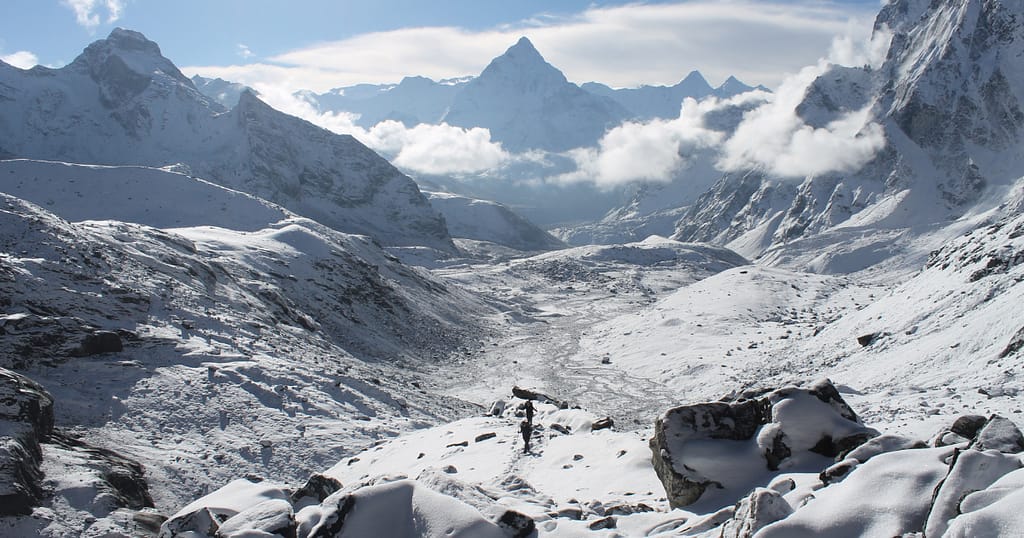 If you enjoy traveling in relatively tranquil places or times, you can be enticed to visit here because the hiking trails are not busy this month. You won't have to share a room with anyone because the hotels and tea houses along the trek are deserted.
All courageous hikers leave the trekking trails as winter approaches. But if you're prepared for the chilly weather, December is a great season to hike to Everest Base Camp. Continue reading to learn more about December trekking in the Everest region.
What is the weather like in December?
In the Everest region, it is surely cold in December. However, the presence of open hotels and tea houses along the route indicates that there are no people in the area. In addition, a lot of individuals enjoy the December hike, especially those who live in areas that are always covered in snow.
Although December isn't quite as frigid as January, there isn't much of a difference. This month, Namche Bazaar's average high is 44°F (7°C), while its average low is around 21°F (-6°C). The weather will be even colder higher up because Namche is only 11,290 feet (3,440 meters) above sea level.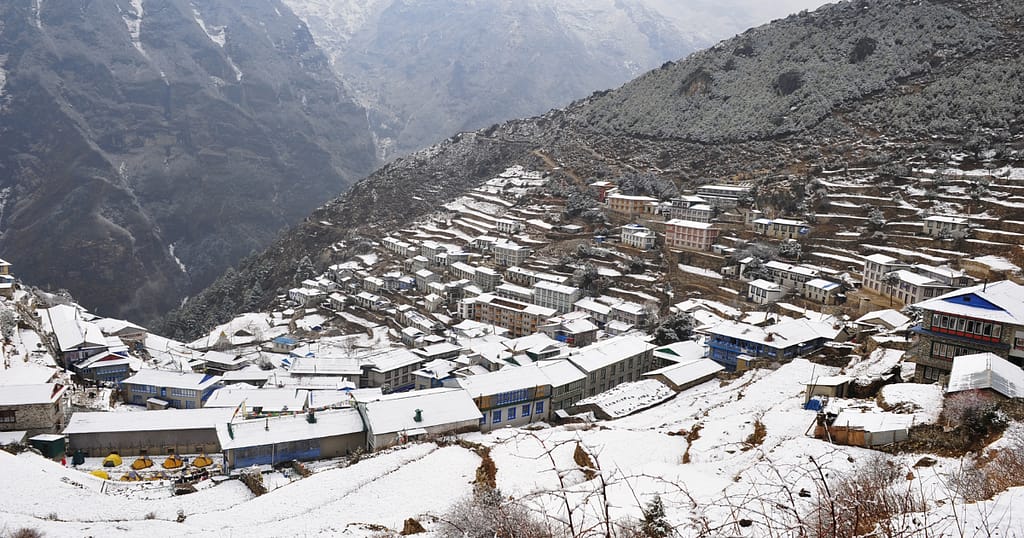 December typically receives 3mm of precipitation. This implies that there aren't many chances of clouds obscuring the mountains. It shouldn't be a surprise that December is when some of the most alluring photographs of the Everest region are captured.
Even though rain is still scarce, it is not as scarce as it was in November. And snow may fall anywhere along the Everest Base Camp (EBC) trail, not just higher up. In December, there's a good chance you'll see some stunningly clear, sharp mountain views.
Hence, the temperature is great throughout the day, but the evenings and nights are cool. But please keep in mind that December has the shortest day. Additionally, because the temperature will swiftly drop after dusk, you must schedule your days carefully.
Which route should you prefer?
You can set out on the traditional EBC trip this month, provided you're prepared for the cold. Especially at night conscious that you might have to turn around at any time if there's too much snow.
Avoid alternate routes in Everest region that require crossing high passes since winter conditions are chilly, and snowfall can be an issue (such as the Three Passes Trek). Treks that stay below 13,000 feet will be more secure and comfortable. But it's crucial to monitor the weather as you advance on any journey in this region.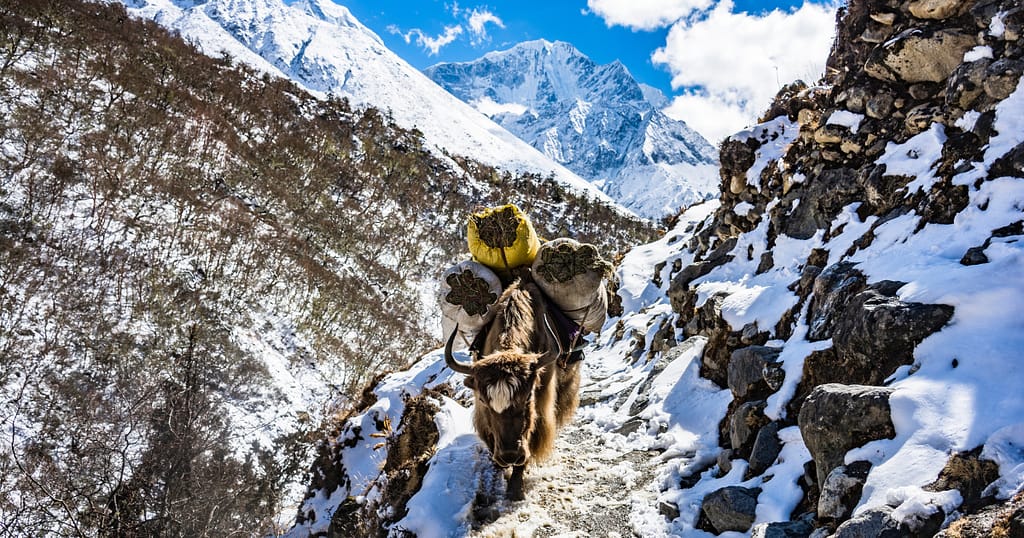 Consider a shorter trip in the Everest region that doesn't go all the way to EBC to avoid the coldest weather. Setting up shop in Namche Bazaar is a cozy choice. There are other excellent day hikes nearby, and it takes two days to go to the town from Lukla. There are some fairly amazing views in the area, but you won't be able to see EBC itself from there.
The initial route to the Everest region, used by early mountaineers before the Lukla airport was established in 1960s, can be taken from Jiri to Lukla. The journey from Kathmandu to Jiri takes a day. Alternatively, one can take a flight from Kathmandu to Phaplu and then embark on a trek across the Solukhumbu region. These trails offer a gradual approach to Lukla and the Everest region, but are not frequently used today.
December is perfect time for a luxury vacation in the Everest region. High-end lodges like Yeti Mountain Homes and Everest Summit Lodges are available and provide comfort similar to cozy boutique hotels in Kathmandu. Winter season adds a special touch as you can enjoy the warmth and comfort of the luxurious lodge after a long day of trekking.
What are the major events you can enjoy in December?
Nowadays, these paths are infrequently hiked, and December is a popular month to commemorate Tamu Lhosar (Hindu and Buddhist festivals follow a lunar calendar). The Tibetan Buddhist New Year is known as Lhosar; however, several ethnic groups in Nepal observe various Lhosar festivities, some of which last until the end of February. Tamu Lhosar is a festive occasion in Kathmandu that is observed by Gurung, Magar, and Tamang people.
A trek near Mount Everest is undoubtedly a memorable way to spend New Year's Eve. On December 31, try to be in Namche Bazaar to experience Himalayan nightlife. The small town has pubs and restaurants, but keep in mind that drinking has negative effects.
You may also like:
Is the EBC trek route too crowded in December?
Due to Nepal's good weather during the major trekking season, also known as peak season, Everest paths become congested with tourists worldwide. During that time, you can go on a hike with other hikers and also line up to take pictures of the stunning mountain scenery.
You can find peaceful pathways and routes during the Everest base camp trip in December, so you can fully appreciate the natural scenery and ancient cultures. The current period is better for those who value peace.
In Khumbu, about 6% of yearly hikers are present in December. In December of last year, over 3,000 trekkers visited the Everest region. This implies that you won't have too many people around to make it feel like a circus, but just enough to keep things interesting. With Christmas and New Year, there are typically much more people on the path in the second half of December than in the first.
Major attractions you can witness in December
Fantastic Views
There is no way that you can compromise on the breathtaking vistas of the Himalayas in the Everest region if you are there. And you won't have to make any compromises of that nature if you plan to hike to the Everest Base Camp in December. The views of the mountains are breathtaking.
Pleasant trekking
Some people might not enjoy trekking in an environment where trekkers are commonplace. And if you fall into this category, a climb to EBC in December would be ideal for you. There is no place like the Everest region in December for tranquillity. A small hiking population also means that you won't be distracted by other people's sights. You can walk freely taking images of the area and you want to document.
Light rain
The thought that rain will prevent their travels from continuing deters many people. You have to wait one or two more days for picturesque views when it rains. Who wants to hike on slick trails, after all? In this way, December is particularly wonderful. In the Everest region in December, the weather is consistent. This makes it easier for you to stay calm about the sudden weather shift.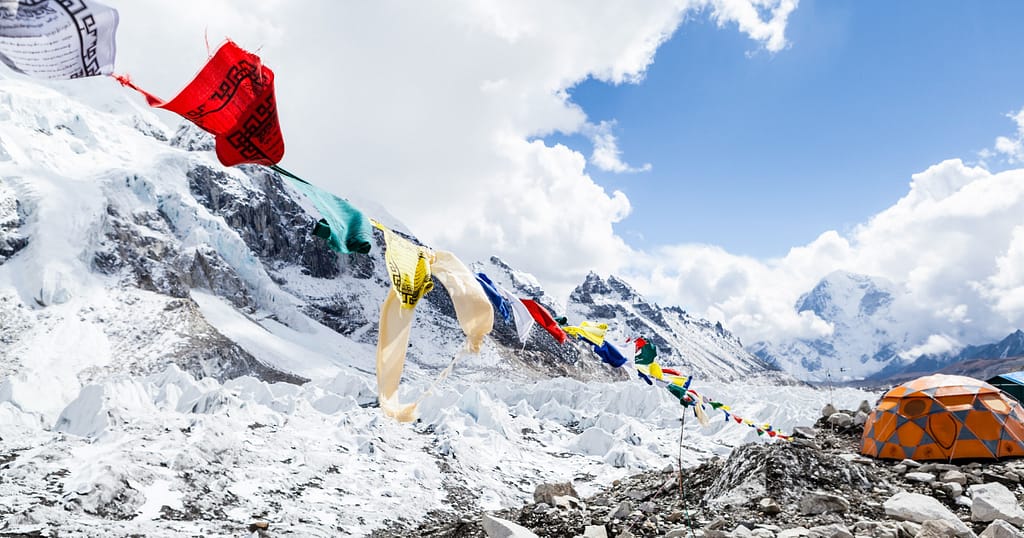 Accommodation in December
In December, lodging in the Everest region is not difficult to come by. Since it is not the busiest hiking season, most tea houses and hotels are deserted. Because there are fewer people, you can have several of the tea houses' mattresses to yourself.
Therefore, if the winter is something you're concerned about, the idea of having access to several blankets and beds brings joy to many. Furthermore, that will provide you with all the warmth you require.
Conclusion
You could feel stressed about trekking in the Everest region during the winter. However, if you talk to a lot of people who have made the trek to EBC in December. They will tell you that it was one of the best treks they have ever done.
In addition, if you carefully read this blog, you won't need to worry about lodging or the weather. So as long as you make the necessary preparations, you will be able to finish the EBC trek in December.